HOLIDAYS FOR THE BODY AND SOUL
The Adler Landhotel is a wonderful place to relax: whether it's a holiday, business trip or short break – the Bachmann and Eck families make every stay a pleasure for all the senses with their warm hospitality.
Guests at the idyllic establishment can expect modern and quiet hotel rooms overlooking the garden. The hotel has everything you might need to recharge your batteries in an unbeatably pleasant atmosphere, such as massage services, a sauna and an organic natural pool (April – October).
Included in the amenities is a restaurant with a small and romantic inner courtyard where guests can feast on exquisite delicacies: it serves recommended dishes prepared with the best the region has to offer: light slow food rounded off with house wines and a varied selection of Bürgstadt wines. Some spirits to round off the pleasurable experience are a good choice as well: the hotel even distils its own brandies.
Adler Landhotel
---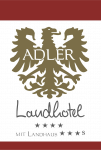 Hauptstraße 30
63927 Bürgstadt
T. 09371 97880
F. 09371 978860