LIVE WITH SENSATION & ENJOYMENT
Adler Landhotel
The Adler Landhotel offers guests an "all-round well-being programme" with modern hotel rooms in a quiet garden setting, sauna and amazing massages.
Enjoy nature with all the senses. As a promoter of "slow food", the "Adler" presents a light, local cuisine.
Everything is topped off with the hotel's own house wines and a rich selection of Bürgstadt wines. And after the meal, the spirits from the house distillery.
Adler Landhotel
---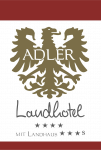 Hauptstraße 30
63927 Bürgstadt
T. 09371 97880
F. 09371 978860