Idyllically situated, the Biohof Joas organic farm is located between Dörlesberg and Hundheim.
In summer, you can admire the peacefully grazing cows on the way to the farm. It's from these happy animals that the good organic milk is collected, which is then used in the Kirchenkäserei (cheese factory) Sindolsheim to make delicious cheese.
The cheese is available as soft cheese and semi-solid cheese (like feta) called Mayen, and in many yummy varieties (chili, pepper, caraway, fenugreek, garlic…).
You can purchase it in the farm's own dairy. Raw, organic milk is also available here in addition to the cheese. And if you are interested in some juicy beef, you've also found the right place. Daniel Joas and his wife Michaela look forward to welcoming you.
Biohof Joas
---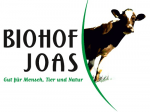 Ernsthofsiedlung 7
97877 Wertheim-Dörlesberg
T. 09342 22974
T. 09342 935675