EXPERIENCE THE
WORLD OF BEER
Distelhäuser Brauerei
The Distelhäuser Brewery has been around since 1811, a family tradition since 1876 that is now in its sixth generation. The traditional brewery currently produces over 20 different beers. In addition to the "regular" range, Distelhäuser's master brewers also create speciality beers in their "brewing workshop", like for instance, the "Distel Blond" or the "Lucky Hop IPA", which are made using different raw materials.
And whoever wants, can enjoy the Distelhäuser Brewery experience with all their senses. On the experience tours, you will learn at close quarters, the amount of care and instinct it takes to turn the natural raw materials into the perfect Distelhäuser beer.
In the brewery pub, the "Distelhäuser Brauhaus" guests can enjoy a fresh beer with some mouth-watering local dishes. Only the best local ingredients are used. Among these are specialities from the adjoining butcher's "Bauers Brotzeit", which supplies the pub with fresh game from local forests, as well as beef, pork and poultry, which have been raised in a species-appropriate manner. Culture vultures will get their money's worth in the former bottling area, the "Alte Füllerei". Interesting events take place here regularly, featuring numerous locally and nationally known artistes, musicians, cabaret artists and enthusiastic younger talent.
INSIDER::
Brewing workshop
You can brew your own personal beer here, alongside Distelhäuser's master brewers. And that means being hands on – from mashing to bottling. Appointments available by prior arrangement.
Distelhäuser Brauerei Ernst Bauer GmbH & Co KG
---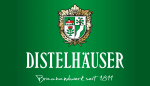 Grünsfelder Straße 3
97941 TBB-Distelhausen
T. 09341 8050
F. 09341 805351