NOT ALL OLIVE OILS ARE MADE EQUAL!
Filippo Pizzo – Olivenöl
When Filippo Pizzo starts talking about his olive oil, his eyes sparkle. His oil and his olives are something very special.
The olives grow in his own groves in sunny Sicily, are fruity with a pleasant spiciness and are pressed in a particularly gentle process.
Filippo Pizzo
---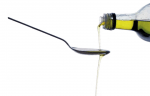 Schwabenstraße 29
63785 Obernburg
T. 06022 4666
F. 06022 7787