NOT ALL OLIVE OILS ARE MADE EQUAL!
When Filippo Pizzo talks about his olive oil, his eyes sparkle. His oil and his olives are truly special! The olives grow on his olive grove in sunny Sicily – in the Salso valley northeast of Agrigento.
They are manually harvested while still green, which gives the olive oil its fresh taste. The hand-picked, modern oil mill uses exclusively mechanical methods to gently extract the oil from the olives. Filippo Pizzo proudly explains: "We were on the ground to help out and monitor every stage, from harvesting and pressing to bottling. We can therefore be sure to offer you our familiar premium quality – Olio Extra Vergine d'Oliva – with a fruity taste and pleasantly spicy flavour." This 'green gold' is deeply appreciated by gourmets and healthy eaters alike.
Filippo Pizzo
---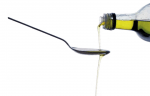 Schwabenstraße 29
63785 Obernburg
T. +49 6022 4666
F. +49 6022 7787