PLEASANT AND WITH FRANCONIAN SOUL
Hotel & Restaurant Bundschu
"Experience true homeland delights" – true to this motto, you'll find the best of what the region has to offer at the Bundschu: typical dishes, local wines, tailored
excursion tips and always a personal story from your hosts, the "Bundschus".
Frank Bundschu creates a light and palatable cuisine with fresh and carefully selected ingredients, whilst Ralf Bundschu anticipates his guests' every wish.
The senior boss, Ursula Bundschu, is the good soul of the hotel and takes care of guests with great kindness. Leave the everyday humdrum behind you at the Bundschu and experience the poetry and romance of Bad Mergentheim.
The tasteful and comfortable furnishing of the hotel rooms ensure a touch of luxury. A sauna area of just under 200 m2 invites guests to wind down and relax.
A wellness massage is the icing on the cake. Then relax on one of the comfy chairs in Oskar's Bar and talk shop over a whiskey or wine.
Hotel & Restaurant Bundschu
---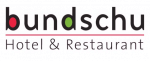 Milchlingstraße 24
97980 Bad Mergentheim
T. 07931 933-0