DESIGN MEETS CRAFTSMANSHIP
Küchen Fries
EX WORKS KITCHENS
What would enjoyment be without the matching kitchen in which all those treats are perfectly prepared?
The passion for good carpentry is evident in every kitchen by Fries. Their solid build radiates durable quality. They enchant with their high degree of individuality
and perfect detail solutions.
The ideas of the customer and the experience of Fries – these are the perfect ingredients for a custom-made kitchen. Difficult floor plans are easy to get past in the
company's own workshop. Competent advisors plan a kitchen for you, using the space optimally for everyday working processes.
More than 100 individual examples of kitchens await you in the exclusive showrooms in Grosswallstadt and – most recently – also in Wertheim. There's something
for every taste. In addition, each location offers a completely set out, generously proportioned show apartment with lots of other ideas for custom, tailored living. Here you can experience trendsetting design live.
The MIELE competence and variety in the exhibitions are some of the most extensive in the region.
Küchen Fries
---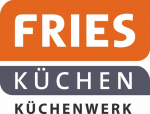 Almosenberg 10
97877 Wertheim-Bettingen
T. 09342 916336-11