Hunters and gatherers
Obst, Gemüse & Feinkost Paradeiser
Bernd Scheurich operates the "Paradeiser" in the heart of the Old Town of Wertheim. He describes himself as a "hunter-gatherer" and cherry-picks the very best
culinary highlights for his customers – whether organic, conventional or international.
If you have time to spend, go ahead and ask Mr Scheurich about the products in his shop. He is both a trader and proven advisor in fine foods, as well as an
enthusiast of quality. He's also very entertaining.
Over the years, the "Paradeiser" has consistently developed and extended its range of regional offerings – with special attention to products from the "Route of Delights". The small, uncluttered shop offers the best of Main and Tauber Franconian wines and numerous products from the committed independent marketers, businesses and farms of the region that can be found in this guide.
You can truly indulge in regional delights here – piece for piece and one even more delicious than the last!
Obst, Gemüse & Feinkost Paradeiser
---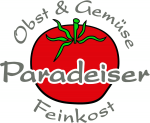 Kapellengasse 15
97877 Wertheim
T. 09342 8593777