Something extra special from friends
Rebgut – Die Weinherberge
Relax and have a good time in the restaurant or on the terrace: Be it with an excellent glass of wine with some tempting Frapas* over a gourmet 4-course meal paired with the perfect matching wines or in convivial company at the end of a wonderful day.
A look at the menu at Rebgut will find the very best of what the area and the season have to offer. Head chef Christian Hedderich and his team are always open to new ideas and sometimes, under the motto "Franconia goes foreign" they like to combine local food with exotic spices and ingredients. Sommelier Christian Rudert serves outstanding wines from Franconia and the rest of the world to go with your food.
To make sure the day finishes in a relaxed fashion, Rebgut has 4 "just like home apartments" with 14 beds in the main house and 10 "feel-good double rooms" in the modern new wing "Wengert". You will quickly feel well looked after here, just like you were staying with friends.
*Franconian version of Spanish tapas.
Rebgut Lauda GmbH
---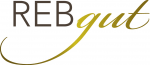 Rebgutstraße 80
97922 Lauda-Königshofen
T. 09343 614700
F. 09343 6147010