High fashion at sensationally low prices
ROFA Fashion Group
Perfect-fitting blazers, jackets and coats for women
One of the most successful German producers of women's blazers, jackets and sporting outdoor wear is located in the tranquil town of Werbach. Prestigious chain stores and fashion consignors, particularly the specialist fashion retailers, are among ROFA Fashion Group's national and international customers.
The main collection – White Label – exemplifies artless elegance paired with an easygoing nonchalance. The young modern label Change is directed at the highly fashionable, younger woman. The top quality and innovative line NVSCO was specifically developed for the exclusive specialist retailer and is sold in Germany's leading fashion boutiques. Three different labels, each in its own way feminine, a perfect fit in all sizes, always top quality, yet still affordable.
In the ROFA Fashion Outlet Store you will experience beautiful clothes in a relaxed, stylish atmosphere, at reasonable outlet prices. With a floor2 space of over 300 m, you can take your time and check out the best items from the current collections, discover coordinating fashion trends fromwell-known brands in trousers, shirts, blouses, scarves & belts. Altogether it's quite an exceptional shopping experience!
RoFa-Moden Faller GmbH & Co.
---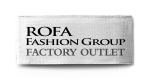 Oberes Tor 4
97956 Werbach
T. 09341 807136
F. 09341 807150