Single malt Whisky made in germany
St. Kilian Distillers
"We strive everyday with much fighting spirit to produce unusual spirits!"
The single malt whisky is produced in idyllic Rüdenau based on the Scottish model with much love and great passion. Step into the distillery and you step into another,
exciting world. The pot stills sparkle copper-red in the light and it smells of wood, brewer's malt and the "angels' share", as that portion of the whisky that evaporates during storage is called.
The whisky from St. Kilian is allowed to mature here in the advantageous climate of the region, with the crystal clear area of the forested surroundings and in carefully selected wooden barrels.
The special feature: Anyone can put together and purchase his or her own 30-litre barrel of single malt. Whether mild or smoky, an aromatic formerly bourbon barrel or new oak casks – altogether there are 14 different varieties to choose from.
And for those who really want to know exactly, a personal tour gives away (almost) all the secrets of the fascinating techniques in the art of traditional whisky distilling.
Insider:
Unique insights
Go on a voyage of discovery and look over our shoulders on a guided tour.
Try our malty-sweet or strong-smoky "New Makes" and our liqueurs or the fruity spirits.
St. Kilian Distillers GmbH
---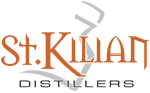 Hauptstraße 1-5
63924 Rüdenau
T. 09371 407120
F. 09371 40712099