Honest, mineral-based plants with character that are unmistakable
Weingut Alte Grafschaft
Weingut Alte Grafschaft is managed today by the two wine idealists Norbert Spielmann & Christoph Dinkel.
Wine has been produced here for more than 400 years. And this is more than evident. The beautiful estate – across from Wertheim Castle – positively breathes history and has vast vaulted cellars in which cutting-edge technology is now installed.
The vineyard has two steep slopes: the Kaffelstein and the Satzenberg. Mechanical processing is possible in neither. Viticulture is still carried out here as it was in
the Napoleonic era – with 100% manual labour.
This is to the advantage of the wines. They reflect the terroir of the two vineyard slopes. They are markedly subtle and allow the detection of the best qualities of the respective grape variety, the soil and the extraordinary micro-climate.
Insider:
Wine festival at the vineyard
The atmospheric wine festivals at the vineyards are one of the area's best kept secrets and are not to be missed. Dates on request.
Weingut Alte Grafschaft
---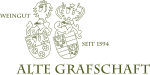 Rathausgasse 5
97892 Kreuzwertheim
T. 09342 5500
T. 09342 22019