HONEST, MINERAL-BASED PLANTS WITH CHARACTER THAT ARE UNMISTAKABLE
Wine has been produced in the Alte Grafschaft Winery for more than 400 years. And you can tell. The beautiful estate – across from Wertheim Castle – positively breathes history. Also worth visiting are the huge vaulted cellars with state-of-the-art equipment alongside traditional wine casks.
The vineyard has two steep slopes: the Kaffelstein and the Satzenberg. Mechanical processing is possible in neither. Viticulture is still carried out here as it was in the Napoleonic era – with 100% manual labour.
This is to the advantage of the wines. They reflect the terroir of the two vineyard slopes. They are markedly subtle and allow the detection of the best qualities of the respective grape variety, the soil and the extraordinary micro-climate.
Delight Tip:
PICNIC IN THE VINEYARD
According to the old Bavarian tradition, you can bring your sandwiches with you and enjoy them with a chilled wine in our historical courtyard.
Weingut Alte Grafschaft
---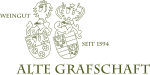 Rathausgasse 5
97892 Kreuzwertheim
T. 09342 5500
T. 09342 22019