BURGUNDY BEGINS IN BÜRGSTADT
Wine has a long tradition here! The Fürst family has been growing grapes since 1638. Sebastian Fürst joined the winery in 2007 after studying viticulture and oenology and internships in Burgundy, South Africa and elsewhere. He was named Winemaker of the Year by the Vinum Wine Guide in 2022. This was the first time in the history of the Wine Guide that the son followed the father, Paul Fürst, in becoming Winemaker of the Year.
Rudolf Fürst has since belonged to the most illustrious names in wine making, not only in Germany, but on the international stage as well: The excellent red wines, especially the large Pinot Noir fields of the Centgrafenberg, regularly exceed the 90-point threshold. But Paul and Sebastian Fürst can also do white wine. Their Pinot Blanc, Riesling and Chardonnay are among the best white wines in Germany.
Weingut Rudolf Fürst
---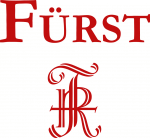 Hohenlindenweg 46
63927 Bürgstadt
T. 09371 8642