Simply ingenious haute cuisine
Weinhaus Anker
When serving from the small select menu, in "Weinhaus Anker's" historic rooms, the head waiter Dinges can easily start raving about a particular sauce and forthwith present you with another small portion.
Wild prawn and octopus ragout, home-made tagliatelle, turbot bottarga and beurre blanc. Alternatively, saddle of lamb cooked to perfection with aromatic couscous, bacon, prunes and goat cheese … But you must taste it for yourself, smell it and see, just how passionately they cook, wait, and serve wine here.
You can expect genuine Lucullan pleasures from the haute Franconian and international cuisine served at this establishment. They only cook with fresh produce here, which mainly comes directly from the producer in order to be able to guarantee the highest quality.
Weinhaus Anker
---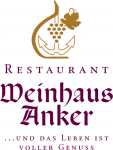 Obertorstraße 13
97828 Marktheidenfeld
T. 09391 60040
F. 09391 600477