100% FRESH AND NOTHING ELSE
Münkels Beerenhof
It is not just its location on a mountain overlooking the Main valley that makes the berry farm in idyllic Mainbullau so unique. Those who have been there know
exactly why making the trip is so worth it.
The Münkel family feel that it is their duty to uphold long-held traditions and are just as dedicated to producing local products from their own fields. Their passion for berries – whether blueberries, raspberries or currants – motivates the Münkel family every day to come up with new ideas, to cultivate the ultimate flavours in their fields. Together with that all-decisive portion of artisanship, this leads to products that impress with their consummate flavour and aroma.
Pure fruit spirits complete the range of berrylicious offerings. Naturally, all spirits are made from the farm's own produce – from classic to those matured in wooden casks.
A tip for experts and gin fans: The BLUEBERRY HILL GIN. It doesn't need much description – you just have to try it!
Münkel´s Beerenhof
---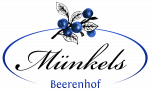 Mainbullau 16
63897 Miltenberg
T. 09371 2131
F. 09371 65937