Rebgut
A GUEST WITH FRIENDS
CULTURED EATERY IN TAUBERFRANKEN
The REBgut, where Andreas and Stefanie Nutt welcome – and pamper – their guests, is nestled on the slopes of a sun-drenched vineyard. The historic building of the former state wine testing agency with its creative-puristic hotel buildings is home to an excellent wine restaurant with a terrace, 29 light-flooded 4-star hotel rooms, two apartments for a home away from home experience and function rooms with state-of-the-art technical equipment for up to 200 people.
The restaurant kitchen uses fresh ingredients from regional providers to conjure up creative, seasonal surprises for the palate. The 5-course 'wine gourmet menu' and its vegetarian counterpart, the 'green menu', in particular are enough to get the hearts of connoisseurs beating faster. And the experience is doubly pleasurable with perfectly matching wines from the region.
Whether it's for a very special evening, a holiday in the Tauber Valley, a family celebration or a conference – the REBgut in Lauda-Königshofen is the perfect venue.
Rebgut Lauda GmbH
---
HOTEL****
EVENT LOCATION
WINE RESTAURANT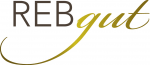 Rebgutstraße 80
97922 Lauda-Königshofen
T. 09343 614700